So you've fallen in love with our Linda Barker Collection? I don't blame you — the eclectic mix of stunning colours and elegant finishes is enough to make me want to change my kitchen every other month, just so I can experience them all!
But we realised you might want a little helping hand in making your colour combination choice; after all, the kitchen is a reflection of your personality and the place you will spend most of your time — so head to our handy Linda Barker Colour Stories section of our website to start your very own game of tones…
While you're here though, why not read on and find a few stylish examples of how this 40-shade sumptuous mix can work for you and your additional dining furniture.
Aztek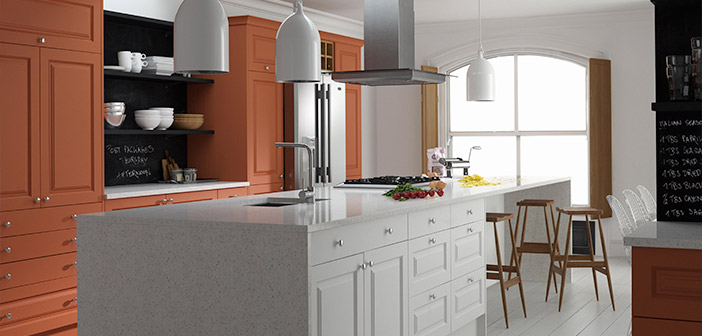 I adore this vivid shade — its burnt tone is warm and welcoming, creating an inviting space in the heart of your home. Combine with Linen to brighten your space — great for smaller kitchens or where there is a lack of natural light. I'd recommend accessorising with lighter oak dining furniture, to give your space an almost Scandinavian, contemporary feel. This Soho Oak 6-8 Seater Extending Dining Table is a perfect match, and adds an interesting element with the cylindrical legs. Alternatively, see the Lille Oak 6 Seater Dining Table for a more solid-looking piece that would look great as part of a contemporary dining space.
Aubergine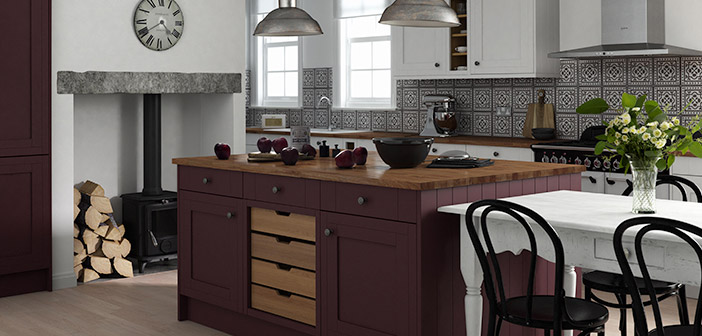 This unique shade is perfect for creating both contemporary and traditional kitchen/dining spaces. It is a shade that works well amongst a number of schemes, and I think particularly with Frangipani or Pebble for a stunning, complementing palette. For your dining furniture in this space, I'd recommend a light, chunky oak style, like the Kobe Oak 6 Seater Panel Table. The soft, warm tone of this dining table creates a beautiful contrast against the dark, rich aubergine, making for an artistic, contemporary kitchen and dining haven.
Baltic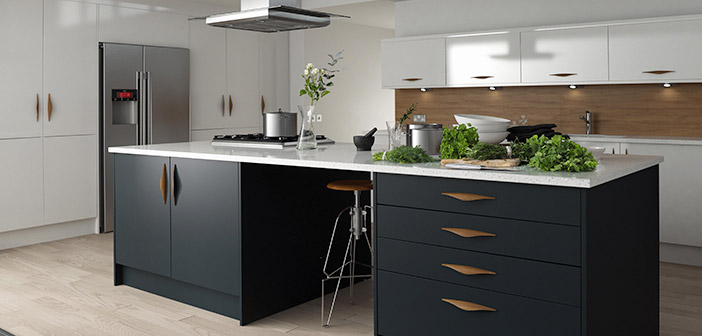 This is the perfect shade to make a striking design statement. In recent weeks I've seen a surge in darker kitchen units and wall colours; the perfect choice for creating an industrial look. Or for a twist on traditional country, choose the Shaker style and furnish with oak worktops for a refreshed farmhouse look. Complement with Glacier or Winter White to create a beautiful contrast forms the foundation for your creative decorating and accessorising! I think this colour palette would work perfectly with the Rustic Jacobean Oak 4-8 Seater Extending Dining Table; the solid oak craftsmanship only highlighting a premium contemporary country look.
I hope these examples have given you some wonderful design inspiration, and whatever colour combinations you opt for, share them with us! We'd love to follow your kitchen design journey