When the time comes to renovate your kitchen, your choice of colour scheme should not be taken lightly. This is the Heart of Your Home, after all, and you want anyone who walks through the door to feel welcomed and wowed! I've comprised a style guide of some of our favourite kitchen colour schemes that will thrive in 2014 and years to come, ensuring even the most style-phobic of your friends will be impressed.
Without further ado, here are our favourite colours for kitchens -
White ...Fresh as a Daisy
White is a wonderful base for your kitchen; it's clean, fresh and demands attention. It also makes accessorising extremely easy -- you could even change your accent colours according to the seasons or yearly trend forecasts if you're conscious of style, making white a practical and versatile choice. This light and bright hue is also great for smaller kitchens, and especially those which lack natural light. That's not to say white is a no-go for large kitchens, but in fact quite the opposite; we often ignore white as a colour choice for our kitchens because it's 'boring' or 'clinical' -- but it's the perfect blank canvas for you to express you personality in splashes of colour and patterns wherever you see fit!
This
Shaker Kitchen in Super White Eggshell
from our Linda Barker Collection is a prime example, optimising the fresh white colour across the walls and cabinets, but with interspersed colours in the form of retro tiles and wooden worktops.
Blue ...Oh I do like to be beside the seaside
As 'Colour of the Year 2014', this refreshing hue is an ideal kitchen décor starting point. The seaside trend is also set for big things this summer, so why not incorporate theses natural hues into your scheme? Think soft sea-blues and off-whites, combined with natural wood worktops and sand-coloured accessories.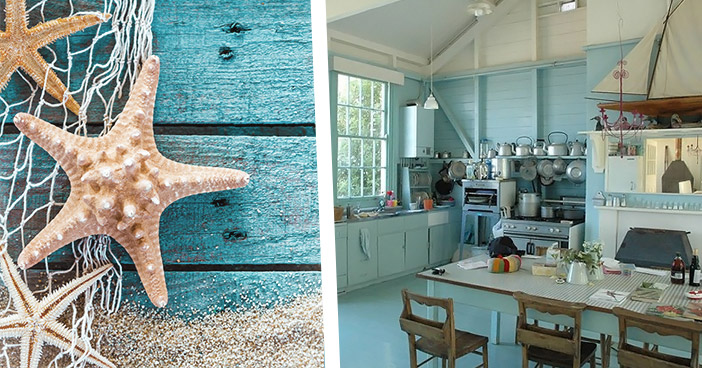 This is a bit of an extreme seaside theme, but I like some of the elements, like the combination of wood and blue for a natural contrast.
Pastels ...Candy Kitchen Saga
Choose a scheme that reflects your eccentric, loveable personality and paint your kitchen pastel pretty. This dynamic theme is great for a toned-down country cottage that's missing a little charm, or even an in-your-face contemporary funhouse, depending how you mix up the shades! (
WARNING:
May cause constant cravings for baked goods and all things sweet...)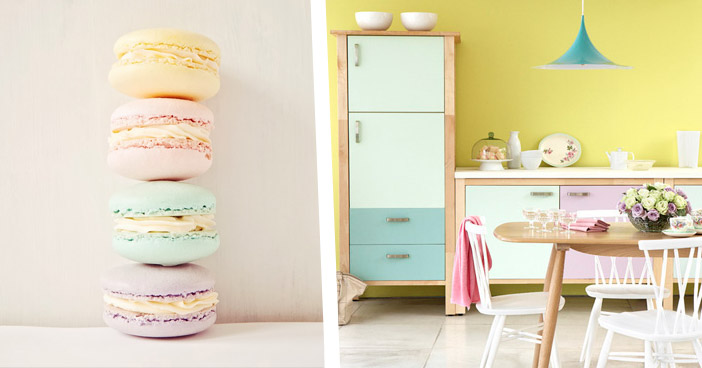 This super cute kitchen design using paint from www.littlegreene.com may be too sickly for some, but I love the combination of soft pastel shades with light wood tones. The colour pop of yellow on the walls is sure to brighten even the darkest of moods when you walk through the door!
Renowned interiors and lifestyle blogger Fritha Strickland
(aka Tigerlilly Quinn)
has shed her expert knowledge on this pastel pretty kitchen scheme: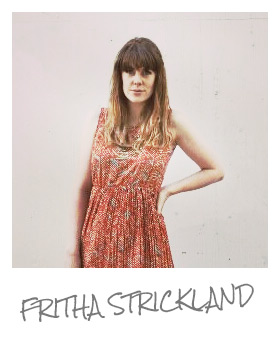 "I love the pastel themed kitchen, I'm really drawn to these shades and colours at the moment and love the retro fifties elements. We have a small kitchen so I think colours like this can really brighten a space and make it feel bigger. I'd love to add some open shelves for added space but other than that it's perfect!"
Do you have a favourite colour scheme? Share it with us and we might just have to revise our list if we like it!